Grace Green Coffee
Collage, objects & photographs form Grace. Grace wrote this:
This is Mary Grace Demory who was married in Indianola, IA on Dec. 17, 1913 to William Henry Coffie. She made herown wedding dress, shown int he wedding photograph. The Wedding Announcement is shown here. They moved to a farm in Polk County, Wisconsin. She used the remaining fabric to make the baptisim dress for the baby born Sept. 6, 1922. A piece of that fabric is included in the collection. She died at the time of the birth of the infant.
As the artist, I deconstructed and reconstructed the items to create this art piece for Grace.
Grace 2
Collage / mixed media piece with dress
Grace wrote about the items I used to create this piece,
Collection of materials form the parents of husband of Grace Green. Roland H. Green married Cecil Wood in Wayne County, iA on May 4, 1919 when he returned from WW One. When she accepted his proposal of marriage he built the House on the Hill with the help of his brother. It was located on a part of the Green family farm. Their son, Thaine Green was born on May 2, 1920. The family photo is shown in this collection with a photo of the house that was their home until they moved to Des Moines after retirement from teaching. That house is now part of a Century Farm presently owned by a family member.
As the artist with these lovely relics, It was important to me to show the dress.
Gladys
Collage with artifacts from Gladys. She wrote this about her piece.
The collage covers a period of time in the life of my husband's mother, Elisabeth Fox Austin, from the late 1800's to about 1925.
She was born and raised in Brooklyn,, NY. Later she lived in Rochester, NY and then in Baltimore, MD, for 50 years. She was a true Easterner, a faithful member of the BaPtist Church, a staunch Republican.
My mother -in-law had a commanding presence and she entered a room with her erect posture and a long braid wound around her head. When visiting us in Des Moines in 1959, we were driving along Grand Ave. I pointed out that Wesley Acres was adding a 200 room addition to the Retirement Home. She didn't mention that she was thinking about moving from Baltimore but wrote to our Pastor at Grace United Methodist, "Will you take a Baptist into that Methodist Home?" She moved to Wesley in 1960.
Her picture is in the Collage, holding a flag given to her by her friend, Mr. Evelyn Baldwin, who commanded a failed mission to the North Pole. The 45 star flag is from his 1901-1902 mission. The mission ended at Randolph Island when the sledges were lost; the crew was rescued.
The collage has in the background a pillowcase with friends and relatives signatures, which were later embroidered. Among one of the signatures is that of Evelyn Baldwin; also one of her husband William Austin, an Architect. He added tools of his trade. The mementos include a page of her autograph album, dated 1889, with a message from her father, a WW I postcard, a Coolidge presidential pin, pages from a miniature book: Etiquette for Little Folks.
Mother Austin made friends easily and enjoyed Wesley Acres, living there 1960-1964. When she went to register to vote in Iowa she was asked if this was her permanent address. She replied, "until death do us part".
As the artist for this piece I hd fun creating a composition with all the lovely artifacts. I added a fern leaf and sequin star.
Margaret
Collage with photograph, antique paper, quilting, thimble, spoons.
Margaret writes this about her piece-
My birth mother, Laura Marguerite (Miller) Pullman, 1901-1934, died the month after my 3rd birthday. She was an excellent seamstress and loved to do handwork. Please note the tatting, crochet and quilt blocks as well as her thimble. Several recipe cards reveal her interest in cooking, and the demitasse spoons reveal her love of entertaining. I am pleased to have the collage in her memory.
Laura's Daughter,
Margaret
As the artist is was a pleasure to arrange and compose this piece for Margaret. I love the photo with Margaret where you can see the resemblance to her mother.
Margaret and the collage I made in her Moms memory.
Gladys and I with the art piece I made for her.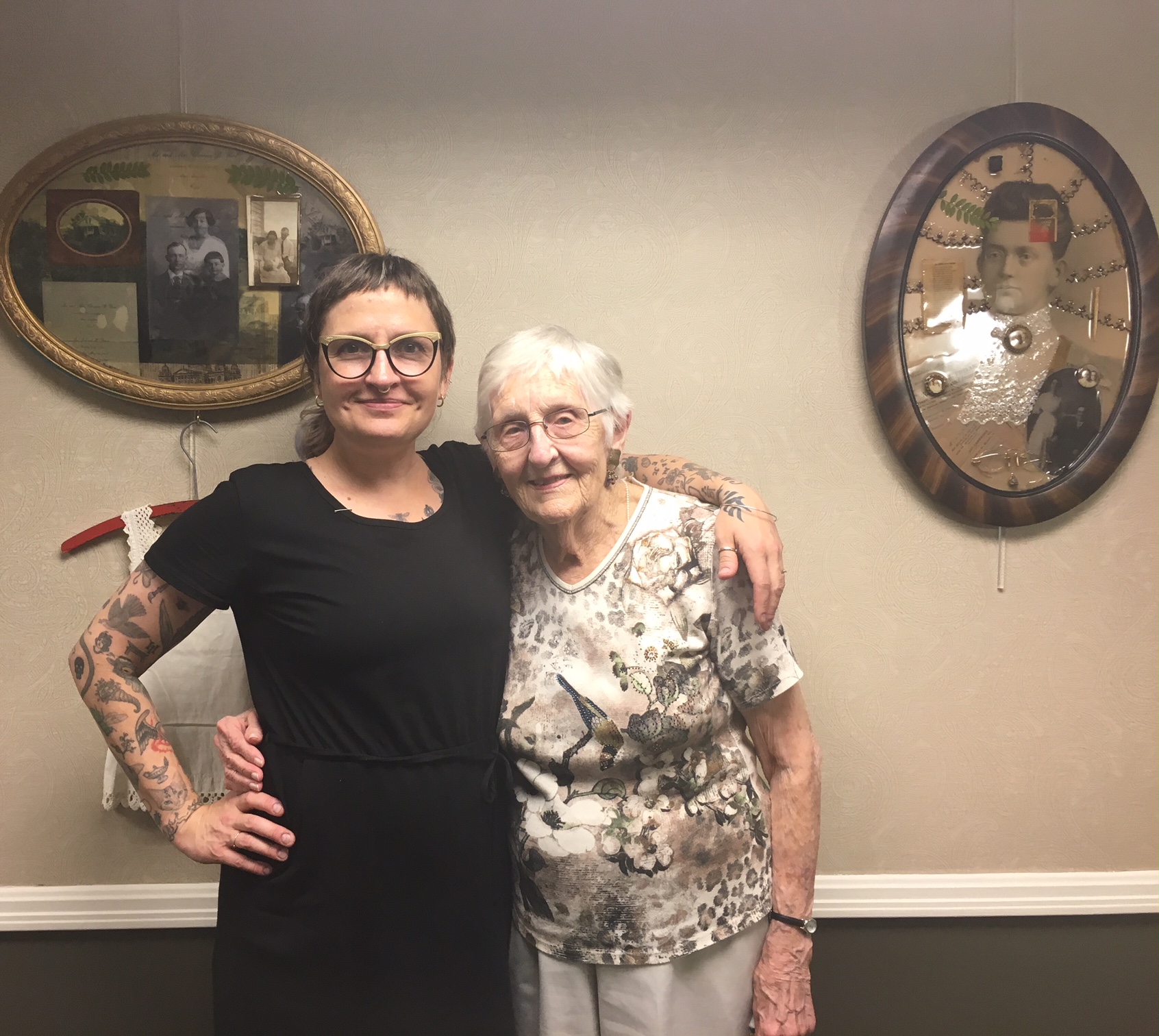 Grace and the artist, we became good friends.
Gladys' treasures before becoming a collage
Grace's piece
Some of Grace's treasures before collage